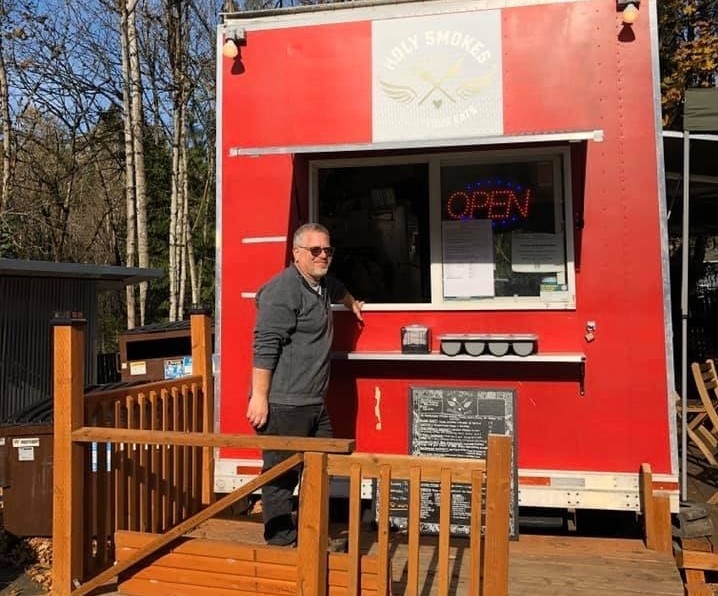 PHOTO: Holy Smokes kosher food cart will serve its final meals on Feb. 11. It is one of two food businesses that are closing. Roons baked its last macaroons Dec. 21. But a new deli is coming to town in April.
Jacob & Sons: A Passion for the Jewish deli
BY KERRY POLITZER
While living in New York, Portland-born chef Noah Jacob spent a lot of time eating at restaurants. But it wasn't until he moved back to the West Coast that he decided to make food (and especially Jewish food) a full-time pursuit. 
 "I met my wife, Dori, in New York," he says. "We moved to the Bay Area, and I had this job that I didn't like." 
Noah was envious of the passion that Dori had for her work in the theater business. She advised him to figure out what it is he wanted to do, to pursue what makes him happy. Noah realized that he yearned to go back to cooking. He wanted to make Jewish food. 
Thus began his tenure with Wise Sons, the famous San Francisco-based delicatessen. Eventually, Noah opened his own catering business, Comestible, that he ran for the next seven years until Covid.
When the pandemic hit, the Jacob family decided to move to Portland, where they have been operating a popular subscription-based supper club ever since. One thing that makes the Jacobs' project special is their emphasis on tzedakah. They offer free meals to those in need. Since they began operating their supper club, about 20% of the meals they've made have gone to institutions such as Randall Children's Hospital as well as to the elderly and to anyone in need.
But the Jacobs always hoped to have a physical home in which they might fully realize the vision of their business. And folks really seem to want those traditional Jewish deli foods! 

Noah set about looking for a brick-and-mortar location. In April, he plans to open the new Jacob & Sons – a deli, marketplace, small catering operation and, of course, the supper club. Their commitment to philanthropy will continue to be a core value within the expanded business.
Jacob & Sons will feature local, house-smoked and cured fish "like you would find in New York" from Barney Greengrass to Zabar's to Russ & Daughters. The fish will be sourced from the Native community, who have caught and smoked the bounty of the Columbia River for millenia. 
"I reached out to the Inter-Tribal Fish Commission, which is in charge of all the native fish that are caught on the Columbia, and I asked them for advice," says Noah. "We have tons of fish, so (I wondered), why is there not a restaurant that is already doing this?"
In addition to local smoked fish delicacies, Jacob & Sons' menus will feature all the deli mainstays including house-made bialys, matzah ball soup, pastrami sliced to order and more! 
"We're trying to use what's available here, seasonally, so there will be some changes in the menu, but familiar comfort is key so the favorites will always be available," he says.
For updates on the opening of Jacob & Sons, visit their website (jacobandsonspdx.com) and Instagram page (instagram.com/jacobandsonspdx/). 
Roons closes, another victim of pandemic
In a Jan. 26 email, Jenn Topliff announced she has closed Roons, the company she founded in 2010 to bake and sell handmade macaroons. 

In 2018, Topliff won a contract to make Roons for Alaska Airlines' First Class Passengers. At its height, Roons was making 50,000 Roons per month with the help of nine full-time employees.
"It will come as no surprise that the pandemic has been hard on businesses big and small, and the humans behind them," wrote Topliff in the announcement. "I'll spare you the details, but let's just say that the last two years have left some indelible scars on Roons. We fought as hard as we could … with every fiber of our being, with every ounce of energy, with every single cent of our life savings, but we didn't win."
On Dec. 21, 2021, Topliff scooped the last 450 Roons, dipped them in chocolate, packaged them and sent them into the world. 
"I'm so sad about how things ended, but I am intensely prideful about what I built and the fact that I elevated the lowly macaroon, of 'in-a-can-infamy,' to the Best.Macaroon.Ever over the course of a few short years," says Topliff.
Topliff plans to return to her previous career as a graphic designer. She had her own studio for 20 years and plans to launch theprettygood.com later this month.
"I already have a host of clients lined up and will be focusing on branding, food packaging, strategy and very out-of-the-box, exclusive wedding invitations," she says.
Holy Smokes to close after Feb. 11
Holy Smokes, a kosher food cart in Hillsdale, will close after more than four years. In a Facebook post Jan. 30, owner and chef Steven Goldsmith wrote, "It is unfortunate that I must announce our final two weeks. Please come and say goodbye and have the best BBQ in Portland. Our last Friday will be Feb. 11."
Located at 3975 SW Beaverton-Hillsdale Highway in Hillsdale, the Holy Smokes Righteous Eats cart serves up a delicious array of Glatt Kosher Smoked BBQ foods.
The food cart has been unsuccessful in its search for a full-time mashgiach, who supervises the kashrut status of a kosher establishment. 
"Bris, bar mitzvah, weddings and shiva – we served the community for 4+ years and are sad to go," says Goldsmith. He adds the lack of a mashgiach is the cause.
"Not even a pandemic could stop us," he says. 
In fact, in a Jan. 6, 2021, Jewish Review article on restaurants adapting to the pandemic, Goldsmith told food writer Kerry Politzer he was seeing his clientele grow. "(People are) driving around, and they're like, let's just go walk over there – there's no reason why we shouldn't try it, it's here!"
For more information on the foodcarts final weeks, visit facebook.com/HolySmokesRighteousEats/.