Photo: New ORA member Eileen Millsap made this fused glass hanukkiah.  "I want everyone to have beautiful Jewish objects in their homes. The Celebration of Art is the perfect place to share the art I love."
BY DEBORAH MOON
ORA Northwest Jewish Artists are eager to re-engage and share their creations with the community when the Celebration of Art returns to the Mittleman Jewish Community Center this month.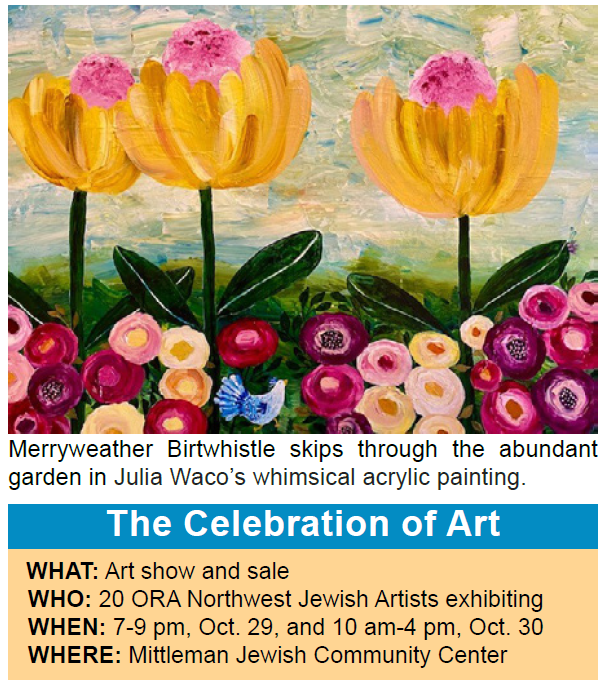 "It is our first big show since the pandemic, and we are so excited to be back," says painter Julia Waco, a longtime member of ORA. "Even if you are not looking for artwork, it is a truly beautiful exhibition, and it would mean so much to me and our other local artists to share with you our passions and all our exciting new creations. An art show is so much more vibrant and exciting with a crowd."
More than 20 ORA artists will exhibit artwork including paintings, drawings, metalwork, glass, fiber art, jewelry, pottery, sculpture, woodturning and photography.
"I'm looking forward to meeting the ORA community in person and for the first time showing my work in a Jewish context," says new ORA member Zac Banik, who says ORA has helped him build an understanding of himself as a Jewish artist. "I've been longing to share my work with the community and hear Jewish perspectives on the themes that my work deals with."
Eileen Millsap also joined ORA this year and found a place to share both art and Jewish values.
"As I have been working in my studio on glass menorahs, challah plates and other Judaica, I think about the families my work will be going to," says Eileen. "I want everyone to have beautiful Jewish objects in their homes. The Celebration of Art is the perfect place to share the art I love."
Julia says that during the pandemic, she missed the collective celebration of a creative community.
"Unlike an art gallery show where you might be a singular or dual featured artist of the month, here it is a shared experience, which I always found enriching and exciting," says Julia. "As an artist, I appreciate experiencing all of the inspiration and the end product of other creatives in a shared event."
Some of the artists met virtually as a support group during the dark days of the pandemic. 

"The pandemic was challenging due to the extreme isolation," says Ellen Green. "Fortunately, I was an active participant in my ORA art support group. Once a month, we would discuss articles, books or other inspiring art activities as well as share our latest artwork. This art support group encouraged and motivated me to create new art. I am an optimist, and I needed to paint and print uplifting images during the last two years."
Julia also enjoyed the support group: "This group kept my eyes and my heart open during this time."
The isolation of the pandemic ultimately added an energy to Julia's work. 
"Our NW Jewish arts group is called ORA, which in Hebrew means light or illumination," says Julia. "During the pandemic, a very dark period of time for everyone, I found illumination within my private inner world as a sanctuary in which I placed my energies to enrich. Consequently, my skies and garden landscapes became wilder in the application of paint and brushstrokes, and I sought to bring out more layering of colors and depth in the work."
Before the pandemic, Ellen started a series of meditation/art cards that were inspired by Torah. She says the cards were well received at the Celebration of Art in past years. This year, she plans to show a wide variety of art she created during the past two years.
"I created an abundance of hand-printed cards with a variety of themes," Ellen says. "My large paintings went from being on mixed media paper to canvas. I played with ink and watercolors as I listened to Torah study on Zoom."
Other artists participating in the show are Andrea Meyer, Annelie Thurin, Arlene Hirsch, Boris Uan-Zo-Li, Daniel Bluestein, Eddy Shuldman, Edith Crever, Glenn Decherd, Jack Liskear, Justin Carroll, Linda Bourne, Martha Decherd, Simcha Shields, Tom Gainer, Victoria Epstein and Yana Goldberg.